The 19th annual Co.As.It. (SA) Italian Community Volunteer Awards were held on Thursday 11th of May 2023 at Marche Club, Paradise. Around 250 attendees enjoyed a long lunch, vibrant music by "Fred", exciting raffle prizes, and the company of our community volunteers.

This year's guest speakers and special attendees included Adriano Stendardo, Consul of Italy, The Hon. Zoe Bettison, The Hon. Vincent Tarzia, Shadow Minister for Multicultural SA and Adriana Christopoulos, Chair of the South Australian Multicultural Commission.

Along with these special guests, the event involved other important members of the multicultural and volunteering community, which demonstrated the value placed on the hard work by all volunteers over the last year.
In total, 26 volunteers were nominated for awards across 3 categories, a tremendous effort on behalf of the Italian community. The winners of each award category are listed below:
Winner of the Aged Care Service Award is Rosa Matto
Rosa is a well-known SA Chef, loves food, cooking and the Italian Community.
She has passion for passing her knowledge of Italian food and traditions and volunteer her time and experience to help create fundraisers and weekly menus for clients and catering functions.
Rosa helps outside of Nonna's Cucina with board awareness and connections within the SA Communities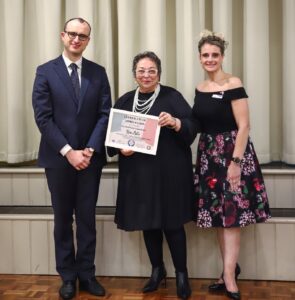 Winner of the Community Service Award is Angela Cutri
Angela presents an informative and uplifting radio show at Radio Italia Uno. She is also chair of Radio Italia Uno social committee and president of Maria SS Di tulle le Grazie Committee. She also has previously volunteered ad Radio Italiana 531, Fresh Fm President.
She has been giving her time for over 20 years to the community organising many events, holding the older community in high regards. She is a selfless individual who is always ready to help putting the others first.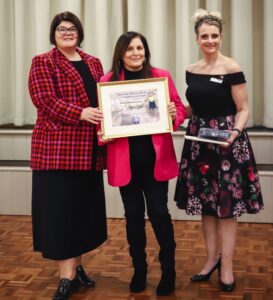 Winner of the Lifetime Achievement Award is Giuseppe Mazzeo
Joe has been an ANFE Community Care Volunteer for more than 20 years, commencing his role in 1999. He is a traditional family man and send his time with his family and tending to his gardening when is not volunteering.
Joe spent his volunteering time at ANFE as bus driver and provided transport to and from our centres over the years. Joe's involvement with the ANFE community Care has given an immeasurable amount of service users a satisfaction and joy that otherwise may have not experienced later in their lives.
By providing a safe, friendly and reliable transport service, food delivery and companionship each day, all conducted with an Italian – centric focus, Joe has made a big difference to those in the Italian aged community. He always went without fuss or hesitation helping the Italian community.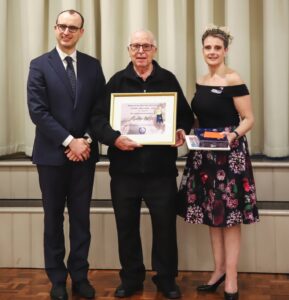 Co.As.It. (SA) is proud of this year's nominees and award winners. Their dedication remains a shining example not just for volunteers but for all those who assist the Italian community.
Huge thank you to all the attendees
A special thank you to all our 2023 sponsors