 Pranziamo insieme project
The Pranziamo Insieme Project
Co.As.it. (SA) presents Pranziamo Insieme, a weekly cooking show hosted by Rosa Matto and Andrea Planamente.
Broadcasted live on Radio Italiana – 531AM every Friday 11am-12pm. 
Tune in live every Friday and join us for lunch, as we prepare a different meal each week to share with all of our listeners at home.
Together we'll cook, laugh, sing and dance!
The aim of the Pranziamo Insieme project is to engage with Co.As.It. (SA) volunteers, clients and the wider Italo-Australian community in order to increase greater social connectivity whilst reducing social isolation.
Co.As.It. (SA) invites all of our consumers, volunteers and the wider Italian community to send in a lunchtime recipe for us to prepare, together with an explanation of why the dish is so special to you!
If you would like to submit a recipe for Rosa and Andrea to prepare live on the 'Pranziamo Insieme' radio show, please get in contact with Co.As.It. (SA) through our send feedback button at the bottom of the page.
We will then get in contact with you if the recipe will be featuring on the show and if we need any further information. 
Bon appetit!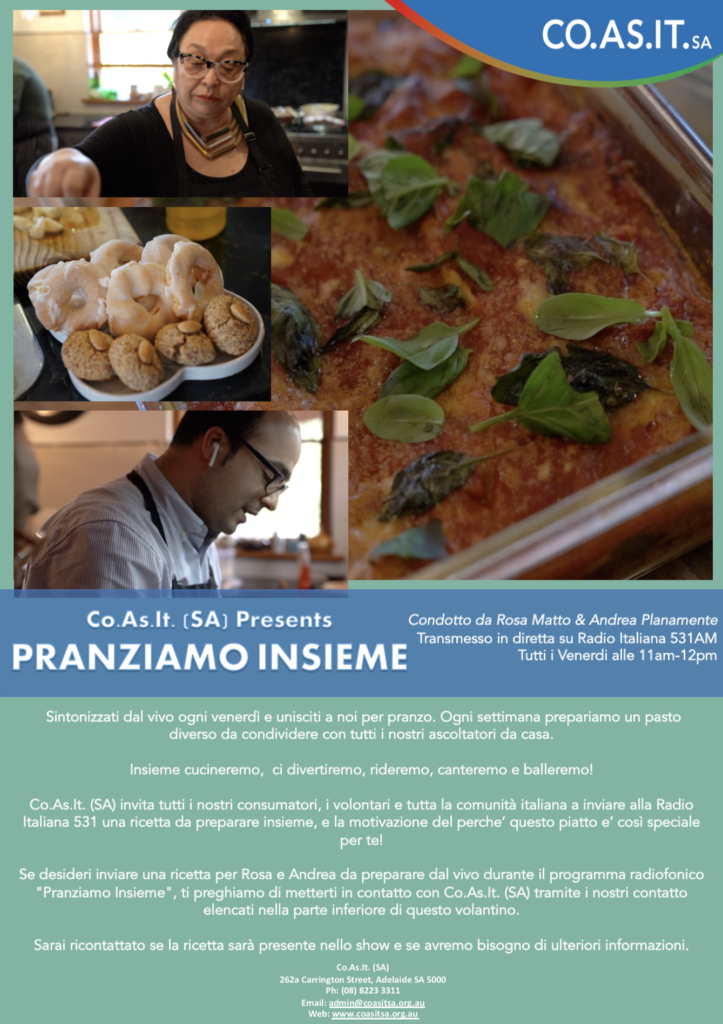 – Melanzane alla parmigiana.
For our first show, the Melanzane alla Parmigiana recipe was provided by our special guest host Rosa Matto and was passed down to her from her mother. This is a tribute to her mother's famous recipe. She was the champion of this recipe and Rosa's family requested this dish every picnic. This is quite a laborious recipe, though the result is worthwhile and feeds a lot of people. it is delicious hot or at room temperature. 
– Gnocchi ripieni di funghi
– La torta di compleanno della nonna
The recipe for 'La torta di compleanno della nonna' was supplied by Maria, one of our wonderful volunteers at the St Maria Goretti Group.
This recipe was passed down to her by her mother in Italy. It would routinely be prepared for family birthdays and now it brings back the nostalgia of those times everytime she prepares it.
Maria now bakes this cake for her own children and grandchildren's birthdays and for other special occasions. It is a very special and loved recipe by all member's of her family.
– Laci calabrese
– Torta al limone
The 'Torta al Limone' recipe was sent in by one of our volunteers Elvira at Unley MENSA.
This dish is important to her as it is the most basic cake she teaches everyone to cook for themselves at home. She also enjoys preparing it for her family and grandchildren Nathan (nearly 5 years old and Chloe 11 years old).
– Baccala in umido
– Tortino di baccala
– Ospiti Speciale, Nonna's Cucina
– Calcinetti di Ceci
– Sformatini di Parmigiano Reggiano
– Gnocchi alla Fiorentina con la ricotta e spinaci (Malfatti)
– Torta Ebraica
– Sarde e beccafico
– Torta di ricotta e mele
– Taralli Pugliese
– Basbousa
The 'Basbousa' recipe was sent in by one of our volunteers Claudia Di Lernia. Claudia was born in Alexandria, Egypt to a Maltese father and an Italian mother before migrating to Australia with her Italian husband in the early 1950s. Treasuring her unique and diverse background, Claudia is grateful for the variety of foods she has been able to cook and share with family and friends. We thank her dearly for submitting this delicious Basbousa recipe. 
– Pasta con cavolfiore
– Crostoli con cioccolato e arancia
– Peperonata all uova 
– Torta di Elvira
– Primo Sale
– Marinated zucchini and raw pumpkin
– Gatto' di Patate
– Biscotti all'anice
– Sporcamuss le sfogliatine pugliesi
– Schiacciata con broccoli e salsiccia
– Braciole melanzane
– Brutti ma Buoni
Our goal is to continue improving the quality and breadth of information we provide to the community.
If you have have listened to the Pranziamo Insieme radio show or watched any of the videos above and would like to offer feedback or suggest future recipes please do so via the link below. We welcome all feedback and strive to continually improve what we do!