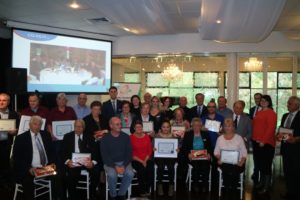 The 12th annual COASIT Italian Community Volunteer Awards were held on Thursday 12th May 2016 at Sfera's Function Centre. The event was a huge success with around 350 attendees enjoying an afternoon of good food, great music and joyful celebrations for the efforts of our community volunteers.
Guest speakers and special attendees on the day included his Excellency the Governor of South Australia Hieu Van Le, Zoe Bettison Minister for Multicultural Affairs, Rachel Sanderson Shadow Minister for Volunteers, Dr Roberta Ronzitti Consul of Italy to South Australia, Vincent Tarzia MP and Tony Zappia MP. The appreciation shown by the mentioned special guests and other important members of the ageing, multicultural and volunteering community emphasised the value placed on the work done by volunteers in the Italian community.
In all 27 volunteers were nominated for awards, a tremendous effort on behalf of the Italian community.  Pasquale Minichello, Luisa Mirolo, Vera Perin, Peter Rossi and Pasquale Russo also received a recognition award on behalf of both CIC and COASIT for their 30 years of volunteer service.
The Youth Volunteer Award for 2016 was won by Angel Manzella, an inspirational young lady who has dedicated much of her time at Villa St Hilarion since she was 7 years old. Angel has assisted with activities, serving food, taking residents for walks, going on outings and talking and singing to residents in Italian.
The Senior Volunteer Award for 2016 was won by dual winners Peter and Sandra Doyle, who have given up much of their weeks for the past 8 years in volunteering at Bene Aged Care. Their assistance has included transportation, meals, arts and crafts, activities and conversing with clients. Although they do not speak Italian both Peter and Sandra have shown amazing interest and compassion for the people they work with.
During the event, guests were serenaded by the wonderful sounds of the band 'Friends'. Many people got involved in their performance by showing off their moves on the dancefloor! In addition, the famous COASIT raffle saw around 30 lucky people win prizes donated by our fantastic sponsors. A huge to all COASIT sponsors who made this possible by donating generously. Radio Italiana 531 and Radio Italia Uno Adelaide both broadcast live from the event on the day and COASIT thanks both radio stations for their support.
A final huge thank you to all of our special guests, sponsors, Sfera's function centre, volunteers, COASIT members and everyone else who helped make the day possible. COASIT again thanks all volunteers for their tireless work in the community and we look forward to celebrating again next year!