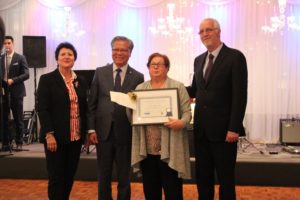 The 13th annual COASIT Italian Community Volunteer Awards were held on Tuesday 9th May 2017 at the Carrington Function Centre, an iconic venue for the Italian community in South Australia. The event was a huge success with over 300 attendees enjoying lunch, great music and joyful celebrations for the efforts of our community volunteers.
Guest speakers and special attendees on the day included his Excellency the Governor of South Australia Hieu Van Le, Mrs Dana Wortley MP Member for Torrens, Ms Rachel Sanderson MP Member for Adelaide, Vincent Tarzia MP Member for Hartley and Antonio Accorso Vice Consul of Italy to South Australia. The appreciation shown by the mentioned special guests and other important members of the ageing, multicultural and volunteering community emphasised the value placed on the work done by all volunteers.
In total, 37 volunteers were nominated for awards, a tremendous effort on behalf of the Italian community.  Special length of service recognition was given to longstanding volunteers that included Mrs Antonietta Battistella, Mrs Vincenza De Sanctis, Mrs Esterina Quarantiello, Mrs Carmela Di Maria, Mrs Lucia Menechella, Tina Morcombe, Maria Russo and Wanda Cavaiuolo.  Life Membership was also awarded to Mrs Franca Antonello, of which more information is provided later in this newsletter.
The Youth Volunteer Award for 2017 was awarded to Mr Eddie Maio, who has been volunteering with PISA for 18 years. His role includes delivering meals to the elderly and he is dedicated to helping the community. He is caring and conscientious, but it is his tireless dedication to the community that inspires others around him. COASIT is extremely proud to recognise Eddie as a much deserving winner
The Volunteer of the Year Award 2017 was awarded to Mrs Genoveffa Paradiso, who has been volunteering with Bene Aged Care for the past 7 years. She volunteers weekly for church service at the Italian Village and dedicates her life, her heart and her time to assisting with the Catholic service for residents. Without revealing her age, Genoveffa is Bene's oldest volunteer and an inspiration for us all. She sets an example for all of us that anyone of any age can contribute to their community.
During the event, guests were serenaded by the wonderful sounds of the band 'Friends'. Many people got involved in their performance by showing off their moves on the dancefloor! In addition, the famous COASIT raffle saw around 30 lucky people win prizes donated by our fantastic sponsors. A huge thank you to all COASIT sponsors who made this possible by donating generously. Radio Italiana 531 and Radio Italia Uno Adelaide both broadcast live from the event on the day and COASIT thanks both radio stations for their support.
A final huge thank you to all of our special guests, sponsors, the Carrington Function Centre, volunteers, COASIT members and everyone else who helped make the day possible. COASIT again thanks all volunteers for their tireless work in the community and we look forward to celebrating again next year!